2020 Board of Review Election Preview ... Up for Reelection, Commissioner Dan Patlak Sits for Interview, Challenges Opponent Tammy Wendt's Qualifications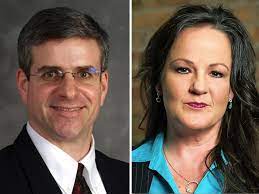 October 13, 2020
8
Dan Patlak of Wheeling, one of three Cook County Board of Review commissioners and the lone Republican, is up for reelection on the November ballot. Patlak recently spoke with Property Tax Solutions about his renewed candidacy, insights into the Cook County assessments and appeals, and the array of issues at hand with every single Cook County property's tax assessment due to change this year.
On Cook County's Assessor Fritz Kaegi, elected to the job in November 2018:
"I think the new Assessor is trying to do a good job but has been held back by the fact that he has never really been involved in this kind of work before. If you don't have enough experience, there is bound to be errors. And there have been a lot of errors—from the providing of accurate valuations to getting things done on time."
The Assessor's Office recently had to draw back its first set of post-Covid-19 assessment figures for Riverside, River Forest, and Oak Park, because property owners had continued to receive new assessment notices after the Board of Review had already begun accepting appeals. Consequently, the process was invalidated, further delaying what has already been a delayed appeal process.
On Covid-19 and impact on property values, assessments, and appeals:
"We're not going to give out blanket reductions just because of the existence of Covid. Our process is not going to be very different than its always been in terms of coming to a value. We will look at the evidence and, if it is compelling, grant relief where it's warranted."
"The Assessor is granting (property value) reductions for Covid not based on any market sales data for residential properties," Patlak said. "Some information we've been seeing from Realtor Associations show home prices going up, not down. Which would mean (the adjustments) are not necessary."
Patlak says the Assessor is also factoring local unemployment and potentially extra-local real estate investment trust market data into to these Covid-19 adjustments.
"I'm not convinced of this approach," he said.
On the Board of Review's adjudication of appeals after the reassessment of Northern Cook County in 2019, Kaegi's first:
"The Board of Review decisions speak for themselves. After the reassessment, commercial property values in the 13 suburban northern townships were raised about 77 percent—average, of course. Some went up 10 percent, while some apartment buildings in Evanston were up 300 percent. That's quite a jolt. After adjudicating, the Board of Review reduced the net increase to 25 percent. I believe rightly so."
Regarding his opponent his seat among the Board of Review commissioners, Democrat Tammy Wendt:
"My opponent is unqualified for the job. She touts her law degree, but the truth of the matter is she has very little background in property assessments. The grand sum is about 100 appeals she filed at the Board of Review in the past. Ninety-nine percent of what the Board of Review does is financial analysis—where I have my background in. It's not interpretation of the law. The law is set. The Board operates within the scope of the law."
On being the only Republican on the Board:
"There is very little representation of or by Republicans in Cook County. It's no secret that one-party power tends to get abused. Most counties appoint their Boards of Review and require that at least one member be from the minority party."
Patlak's Democratic opponent Tammy Wendt—what she says she'll do differently and why she says it's important:
Tammy Wendt of Palos Heights, Patlak's Democratic challenger, declined Property Tax Solutions' request for an interview. With less than a month before the election, The Chicago Sun-Times, The Chicago Tribune, and The Chicago Daily Herald have all backed Patlak on their opinion pages.
Wendt believes her status as a laywer is essential to the role, while Patlak's has a background financial analysis and nearly 18 years' experience on the Board of Review. In other interviews, she said the Board is a "quasi-judicial" body, therefore wouldn't it be better to have a lawyer there? As a point of fact, Patlak does have three lawyers on his staff.
Policy-wise, Wendt says her "main concern is the homeowner." What she has been most vocal about is her view that the Board is "not giving relief where it is warranted" on the commercial side.* If PTS had been granted an interview, we would have asked how one can square the desire for larger commercial tax cuts with being primarily concerned about homeowner tax bills.
Tax assessments are, of course, a zero-sum game, and homeowners must by necessity pick up whatever proportion of the overall tax overwall levy commercial owners are permitted to shirk. Residential owners' piece of the pie grows as commercial owners' shrinks.
After Northern Cook County's reassessment last year the Board of Review cut Kaegi's proposed 77-percent commercial assessment increase by two-thirds, capping it at 25 percent.
Whatever one's view on the proportional split, Cook County homeowners presently carry 64 percent of the county's total property tax burden. Thirty years ago, the residential burden stood at 52 percent. Meanwhile, in 2018, the International Association of Assessing Officers recently reported that Cook County's average commercial property valuation represented just 52 percent of its sales value. Kaegi pointed to this study as affirmation of his general thesis.
Wendt has also repeatedly pilloried Patlak for not issuing a statement, or promise, of Covid-19 relief this year. Patlak said he finds the idea of advertising relief before seeing any evidence would be antithetical to the Board of Review's purpose, and an improper step for any sitting member to take. Perhaps that is why none of the three—not just Patlak but Democratic Commissioners Michael Carbonargi and Larry R. Rodgers, Jr., too—have done so.
Whomever wins the election, fairness at accuracy in property assessment should be their primary, if not singular, concern.
*Both of these comments were taken from an online debate between Patlak and Wendt conducted by The Daily Herald last month.